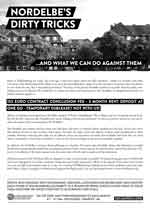 Rents in Wilhelmsburg are rising. Ten years ago, 6 euros per square meter was still customary – today it is 10 euros, and often even more in the Reiherstiegviertel. Many of us are in financial difficulties. Many of us face the threat of eviction from the district or even from the city. This is the political intention! The focus of the private Nordelbe GmbH is on profit. And for profit, everything seems to be allowed. We would like to inform you about the harassment of the Nordelbe, its background and how we defend ourselves against it.
155 EURO CONTRACT CONCLUSION FEE – 3 MONTH RENT DEPOSIT AT ONE GO – TEMPORARY SUBLEASE? NOT WITH US!
When concluding a rental agreement, Nordelbe charges 155 Euro as handling fee. That's illegal, and you can get the money back. Pay the fee first, otherwise the Nordelbe may not be willing to let you the apartment. As soon as you have moved in, you can request the money back in writing from the Nordelbe.
The Nordelbe also requires the first warm rent and three cold rents as a deposit before handing over the keys. If you don't have that kind of money in your account, don't panic. You have the right to pay the deposit in three equal installments in three months. However, enforcing this right can be difficult. From our experience we know that Nordelbe will resist this. So, until there is no handover of the keys, we prefer to come to one of our meetings to discuss the procedure together.
In addition, the Nordelbe is trying to limit subletting to 6 months. No matter what Nordelbe claims, this limitation is invalid! Permission is automatically granted for an unlimited period of time. It also requires the identification card of the subtenant. However, it is sufficient if the main tenants state the name, date of birth and occupation of the subtenants.
All these practices of the Nodelbe are designed to make as much profit as possible. As long as living space has to yield profit and is not managed by us tenants, evictions, rising rents and moldy apartments will be on the agenda. If you don't want to lose out, you can fight back together with us. Come to a meeting of Wilhelmsburg Solidarisch if you have problems with your landlord. Often a letter is enough to defend oneself against the illegal tricks. You can find sample letters here.